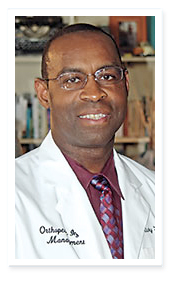 Ricky Lockett, LPT, MBA, DO, MPH, Diplomate of American Academy of Physical Medicine & Rehab.
Dr. Ricky Lockett practices pain management, neuromusculoskeletal medicine and physical medicine & rehabilitation in Tampa and St. Petersburg, Florida. With an emphasis on: developing a network of clinicians, facilities and referral sources to cost effectively manage the injured; enhancing employer performance, productivity and effectiveness by preventing functional decline related to musculoskeletal conditions; facilitating return to function for the impaired (physical, mental, emotional).
Dr. Lockett is focused on orthopedic injury management utilizing specialists in Physical Medicine and Rehabilitation as the case managers. The goal is to prevent injuries, facilitate early detection, treat acutely, rehabilitate, determine functional capacity and return to work, emphasizing education, collaboration, compassion, and taking personal responsibility.
As a healthcare provider Dr. Lockett will empower people in pain to take control of their life and their symptoms.
Education:

• University of Pennsylvania
• Philadelphia College of Osteopathic Med
• Board Certified by the American Board of Physical Medicine & Rehabilitation

Professional Experiences:

• Medical Director – Orthopedic Injury Management